One of Kyoto's
traditional industries

Hikihaku


has always poured down
its brilliance onto Nishijin textile.
We want to hand over
that unrivaled beauty
to the next-generation manufacturing.
About Us
Incomparable glittering brilliance
by the division of labour to the world
The craftsmen who design the
Hikihaku
make the base papers with skillful use of gold and silver foils.
After that, the craftsmen called
"Kiriya"
cut those base papers as thin as 0.3mm wide.
The thin thread yarns are handed to
"Oriya"
who weaves them into Obi textiles.
There are those craftsmen divide the work of the outstanding techniques behind Kyoto's traditional industries.
Our ambition to complete our craftworks and delivering it to the people waiting for the goods of even higher quality,
Nishimura Shouten wants to take over the craftsmanship which was preserved by the spirit of such craftsmen and deliver it to the outside world.
We face a new blank Japanese paper everyday to capture the limelight in Japan and moreover, in the world.


The History
In 1924, the founder Minoru Nishimura started a gold and silver thread and
Hikihaku
company here at Kyoto Nishijin.
Shuichi Nishimura, the second generation took over the business from his father Minoru in 1970's.
Decade of Osaka Expo, the era of strong economic growth we had never experienced.
He shifted the business of general gold thread manufacturer to
Hikihaku
specialized manufacturer.
Demand of
Hikihaku
was rapidly increasing and the company was expanded to 20 craftsmen.
He widened the variety of
Hikihaku
from just a plain gold foil fixed to the entire surface to what meets the customer's needs.
Naoki Nishimura, the third generation was brought up in the midst of busy workshop and grew his desire of "I want to inherit this company someday".
After studying business administration at the college and three years of training at Obi wholesaler,
he learned the techniques of
Hikihaku
from everyday practice.
He is in quest of possibilities of
Hikihaku
to produce coloured design of once in a lifetime encounter with his wide range of skills and artistic sense.




Hikihaku
techniques
to many other fields
As a result of the predecessor's ingenuity, variations of
Hikihaku
have been broadened.
Therefore, we feel it can be used not only for Kimono but also in many kinds of applications.
When I was in France a couple of years ago, we were overwhelmed by the reaction
to the partition which I and a picture hanger of my coworker made together. And it changed the feeling into strong conviction.
Recently, we have been receiving direct orders from interior workers who had seen our exhibited products.
Besides delivering the beauty that only
Hikihaku
can express,
we are also making every effort to support educations for craftworkers in traditional industries.
What is
Hikihaku
Nishijin textile has been evolved in over 550 years of history.
Nishijin textile in which gold thread called
Hikihaku
is woven has been used as materials for Obi of exceptional high quality.
After affixing coatings onto the surface of Japanese paper and applying finish with lacquer or Japanese lacquer
(Urushi),
it is cut into threads of 0.3mm wide by cutting expert craftsmen of long term experience.
The threads of Japanese paper is pulled over the loom one by one and woven. It is called
Hikihaku
(pulling foil) because of this pulling action.




There are varieties of craft techniques.
"Yakibaku"
utilizes the chemistry of silver altering its colour when sulphide and is conceived of
Wabi-sabi
.
"Sunagohaku"
is a technique of sieving cluttered foils onto coloured Japanese paper.
Utilizing the wrinkle of kneaded paper is called
"Momihaku"
.
The design of
Hikihaku
made out of these techniques are framed and hung on the bedroom wall,
applied directly to a table to colour it or applied to accessories and dishes.
The use of
Hikihaku
is expanded beyond the use as threads.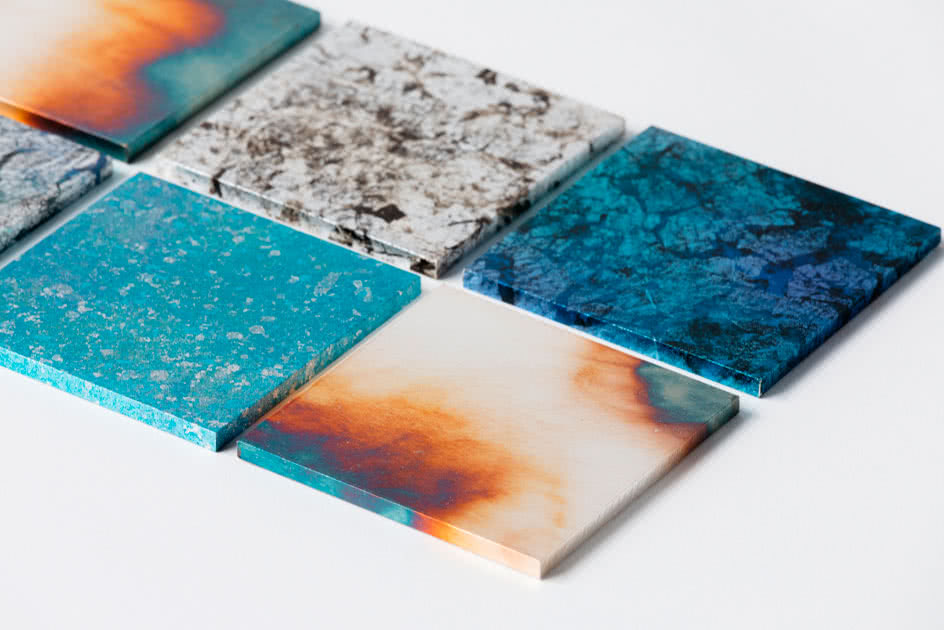 Any colour or design you like
Vivid colour and gradation is realized by using lacquer or urethane paint. We can design that meets your demands.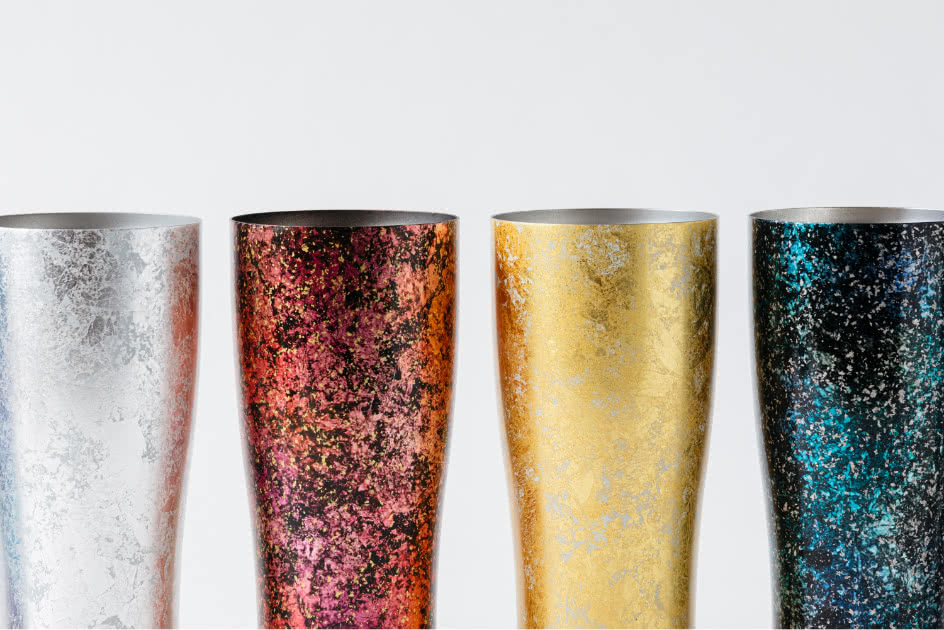 Combination with broad range
of materials
Foil is highly flexible material. It can be combined with wood, leather, metal, glass, acryl or many other types of materials.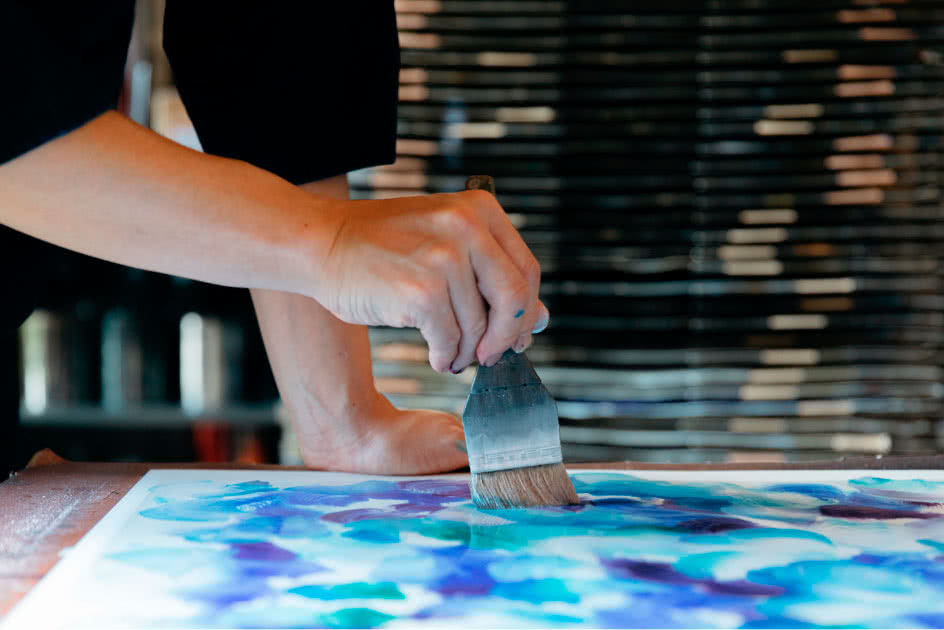 Individual characters made by handcraft
that cannot be found in printings.
Every single product has enjoyable different characters made by painting with a brush, spraying or sieving foils.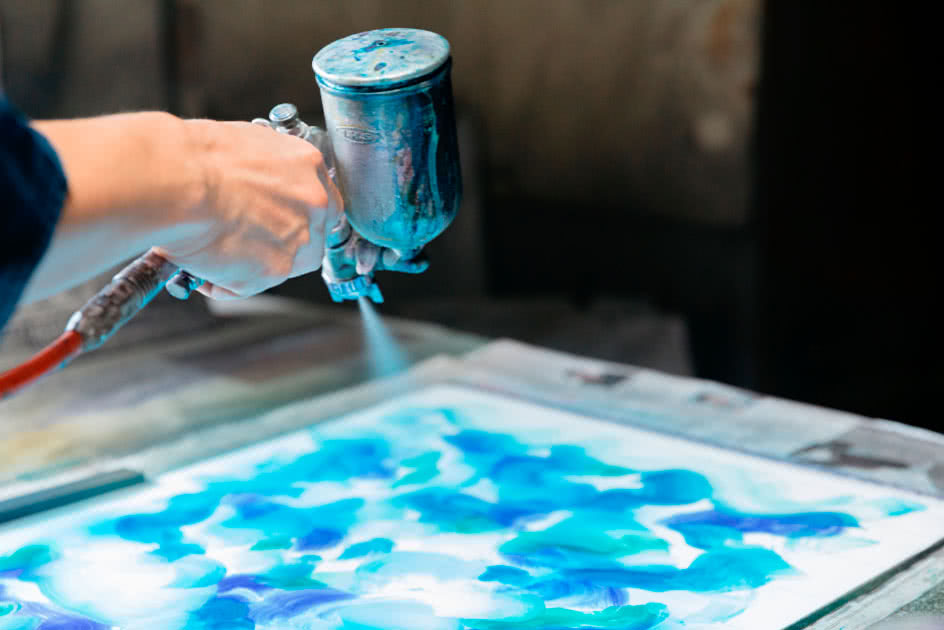 Strength adjustment
for ease of use
Basically, foils can be affixed to any kinds of materials, except for clothes. For the use of furniture, joineries and fittings, strength can be added by specialized coatings.
Inquiries
Please fill in the form to ask for the workshop guided tour or any kind of orders.